Injector Needles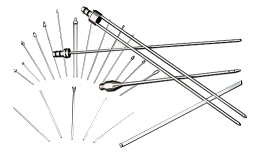 Adcut Knives supply a wide range of injector needles; The quality and prices we offer are equal to no other. Our needles are manufactured with the highest grades of stainless and are hypodermic treated to make sure there's no contamination. Here are some brands we can offer :
Fomaco
Metalquimia
Lutecia
Inject Star
Rhule
Belam
Punchs
Adcut Knives offers a complete range of punch's and cross-cut blades for all thermo forming and packaging machines. We also offer hole and handle punches for the plastic bag industry. We stock all the popular models. Here are some brands we offer :
Multivac
Reepak
Veripack
Ulma
VC-999
etc.
Specialized Blades
Adcut Knives is able to manufacture any type of blade that you need. With a technical drawing and a good idea we can conceive any specialized blade that you require for your specific needs. We are specialized in the conception of custom made knives. Try us, request a free quote, you will be more than satisfied.