Bowl Cutter Knives & Blades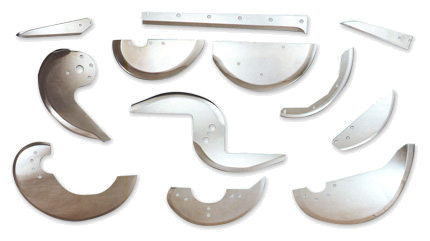 Whatever your equipment, Adcut Bowl cutter knives offer special anti-corrosion materials to give you extended life for your Bowl cutters. Honed to a high smooth finish to maintain their sharpness. Our special Stainless steel eliminates any worries regarding rust getting into your precious meat.
Bowl cutter knives for :
Kramer & Grebe
Seydelmann
Laska
Hoegger Alpina
Seco
etc.
Meat Grinder Plates & Parts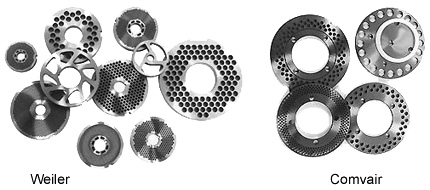 Adcut Knives offer a full range of meat grinder plates and parts that is unmatched on the market. Whatever the size of your grinder plates, we can supply from our vast inventory. Contact us with your demanding specifications and let us prove our quality and prices.
Meat grinder Plates & parts for :
iler
Comvair
VeMag
Wolfking
Unger
Cozzini
Triumph
Derinder & Skinner Blades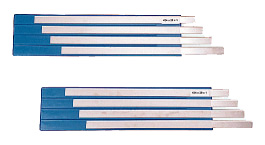 Adcut Knives are proud to be associated with the world's finest producer of derinder blades and skinner blades. While our prices are unbeatable, it is the outstanding long lasting quality of our derinder / skinner blades that sells this product. Adcut derinder blades are offered from a vast inventory for every OEM machine presently on the market. Test our derinder and skinner blades and prove it at no cost to you.
OEM machines for :
Weber
Cretel
Maja
Grasselli
etc.
Band Knives & Band Saws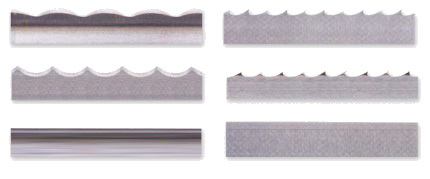 Adcut Knives offer a complete range of Band knives and Band saws. Toothed or scalloped, our special hardened edge teeth add extended life and performance to your demanding applications. Adcut offers welded to length or Coiled stock for your requirements. Our blades are bulk packed or individually wrapped to offer added security. Adcut knives also offers the entire blade range for the bakery industry.